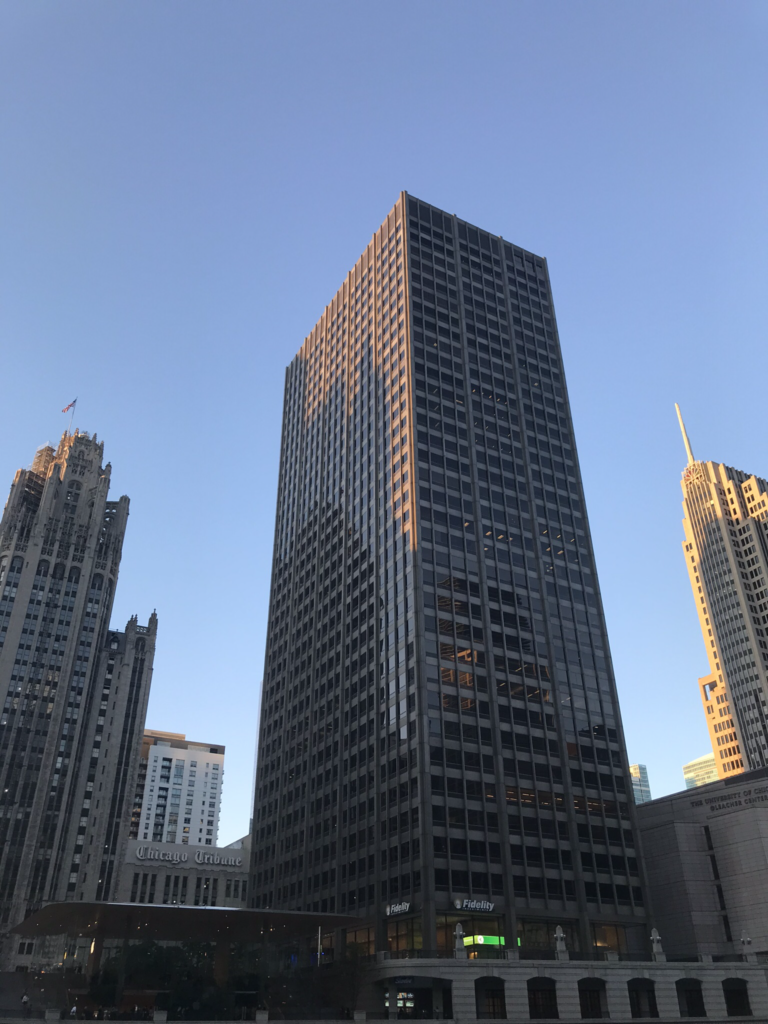 Architecture took a bit of a break in the 1960s, didn't it? Every freshman architecture student hates the plain black box modernism of the 1950s, but those buildings have a lot going for them – they're sleek, elegant, and still look reasonably "modern" even today. But in the 60s, the elegance was gone, replaced by chunky "international" style buildings that some people say looked really cool in their time. We have to take their word for it.

A prime example of a building that is passed by dozens of boat tours daily, and is highlighted by approximately none of them, is Bruce Graham's Equitable Building at 401 N Michigan Avenue, which sits in Pioneer Court next to the gothic Tribune Tower. The Tribune company sold the land to the Equitable company on the condition that the tower not be taller than the Tribune Tower itself was. They should have held out for more conditions.

The area around Pioneer Court is a veritable feast of great buildings – besides the Tribune, you've got Alschuler's London Guarantee Building, Graham Anderson Probst and White's Wrigley Building, Holabird and Root's Art Dec 333 N Michigan, and Adrian Smith's 80s Art Deco throwback NBC tower. Even the brand new Apple Store looks nice, blending into its environment. Plopped right in the middle of these, The Equitable Building just sits there, a sore-thumb example of the "Just a Fucking Building" style of architecture widely favored by Skidmore, Owings and Merrill in those days, when they were putting up all sorts of buildings that still win "Worst Building on the River" contests. Frank Lloyd Wright called them "the three blind mice."

Now, The Equitable was designed by Bruce Graham, just before he designed the Hancock Building and the Sears Tower, which found a comfortable balance between old modernism and post-modernism, retaining the elegance while finding more interesting shapes and styles. But even great architects had to live through the early 60s, and we imagine that at the time The Equitable at least seemed more interesting than the parking lot that had been there for years when construction began. Early articles about it note that bold use a bronze color, and the fact that it had air conditioning, though the vast majority of the praise for it centered around the large open plaza that would surround it.
When the building was dedicated in 1965, the Tribune spoke highly of the location and the plaza, but of the architecture only said 'Call (it) a high rise, call it a monolith, say it is clean-lined or soaring, or call it, as does Skidmore Owings and Merrill…'a contemporary design,' this structure is a far cry from anything that stood on this history-laden site before." In other words, "Well, it's different."

In some other block, the Equitable Building might look fine. It'd be okay on Dearborn or Clark next to all the other office buildings. But surrounded by Beaux Arts and Art Deco and the Magnificent Mile, it's no wonder it gets ignored by tour guides, who'd rather tell an entirely mythical story about why the business school next door has no windows or skip straight to NBC Tower. Like most buildings of its era, the Equitable simply lacks elegance, and as they say, if you ain't got elegance you can never carry it off.

Perhaps the grounds are simply cursed. 401 Michigan is roughly the site where John Kinzie killed Jean LaLime, where the Fort Dearborn settlers poured all their whiskey just before the Battle of Fort Dearborn, and where the slavery-loving Cyrus McCormick set up his factory in the days before the Great Chicago Fire. And yet, the plaza is still fantastic, home to bizarre art like that giant statue of Lincoln and what appears to be Pat Boone. "Don't you see, Mr. Boone? When they go low, you must go high! As high as fuck, Mr Boone!"